Revenge of the Black and White SEO Critters
If you spend any time in the internet world and have even the most basic understanding of SEO, you've probably been affected by recent Google Panda and Penguin algorithm updates. A number of Chicken Littles are even running around and clucking about SEO being dead and link building being a thing of the past. Give it a rest already!
First of all, if you weren't trying to aggressively manipulate your links and rankings you probably suffered very little if at all. We actually gained traffic and did not have a single client website that was adversely affected by the recent updates. That's not to say we don't engage in any SEO activities (we do) or that we plan to stop any time soon (we don't). The reality is, if you look like you're trying to game the system, Google will probably assume you are and you'll eventually pay the price.
---
The Natural Way to Build Links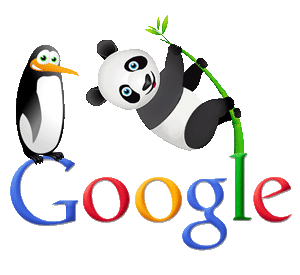 Even in a post-Penguin world it makes sense to continue to build links that can benefit your website's ranking factors. The key is to do it in ways that appear natural and not to draw undue attention to your activities. The best way to appear natural is, of course, to be natural and engage in building links in such a way as you would do it to gain legitimate, relevant traffic and customers. Here are a few of the ways we engage in legitimate link building that haven't failed us yet.
Social Sharing – If you have useful website content (and if you don't…start creating it), it's only natural that you'd be out there sharing it on social media. If you're not using social media to help share your content, crawl out from under the rock you've been living under and get busy sharing. Pick no more than the best 1 or 2 options for your type of business and get busy.
Press Releases – If you have legitimate news about your company or brand, press releases are a great way to share the news as well as generate links to your website. If done well, press releases generate lasting links that will deliver qualified referrals to your website for many months.
Directory Submissions – These have developed a pretty poor reputation over the past few years but that's mostly because they were a big piece of the problem when it came to gaming the search engines. You should definitely avoid the link farms and generic, pay-through-the-nose directories. You should definitely use the ones that are free, or very affordable, and are relevant to your business. For example, we design websites so it is useful and only makes sense that we should be listed on web design directories.
Guest Blogging – If you're running a blog, guest blogging remains a good opportunity to build legitimate links. It's a mistake to overdo this (unless you have unlimited time) but a few well-placed articles on relevant, high traffic sites is still beneficial. Again, make sure they are relevant to your type of business and the website is reputable.
Follow vs. No-Follow Links – If you're building links naturally it only stands to reason that some of them would be No-Follow links. They may not be worth as much as Follow links but they're worth having if only to balance out and legitimize your entire group of links. Keep growing both kinds if you want to look natural and do it gradually rather than in large chunks.
Vary Your Anchor Text – Where possible, you should try to make sure your anchor text varies among your key phrases. If all your anchor text is exactly the same this is a pretty clear signal that your links did not occur naturally and is like waving a big red flag that says "Google smack me down".
Internal Linking – These are often overlooked and that's a big mistake. Your own internal links are the one group of links over which you have total control. Not only will good internal linking help keep your bounce rate down, they also allow you the ability to vary your anchor text significantly and focus on the content you value the most. If you don't act like your content is important, why would Google think it is?
---
Don't Forget the Fresh Content
If you keep adding fresh, new, unique content to your website and share it through the methods noted above, links will just start building on their own. Content Marketing, or Inbound Marketing, isn't a quick fix but good SEO never is. You often hear the saying "Content is King" and it's definitely an important aspect of any SEO platform.  It's always easier to build links through sharing if you actually have something worth sharing.